The Marbell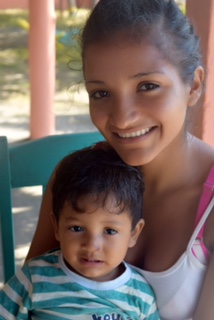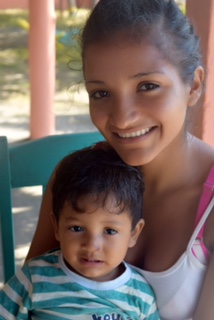 The Marbell
Choker Necklace with Howlite & Gold with ball of light & feather.
Howlite is a stone of awareness. It can prepare the user or wearer to receive wisdom and attunement from the Higher Self and the Divine.
It enhances ones ability to be authentic, heighten creativity and self expression. This stone is known to ease difficult communications & aid in relaxing during stressful situations or interactions.
Howlite is primarily associated with the crown chakra, but can also be used to stimulate and balance all the chakras.
This piece was made by the Padre Ramos Women's Collective in Nicaragua and named after one of the women in the Collective, Marbell. Portion of proceeds from this piece will go towards the Homebuilding Project for these women in Jiquilillo, Nicaragua.
Meet Marbell:
She is a single mother age 17 raising a 14 month old son named Yareth. She and her son live with her 80 year old grandmother along the estuary in Padre Ramos in a home put together with black plastic sheets and palm branches. Marbell is still attending high school and also helps support her family by selling cloths, steel jewelry and handicrafts to the guests at Monty's beach lodge in Jiquilillo. She grew up with her grandmother after both her parents were killed in a fishing boat accident when she was 6 months old. She joined the women's cooperative shortly after her son was born, making jewelry, bracelets, earrings, and mirrors. Her hope is for a safe home to raise her son and for her grandmother to have peace in her twilight years.